velsycon | Interchangeable system - Combilift CL
The unique velsycon COMBILIFT-system is able to move container in three different directions. The COMBILIFT, type CL 26.72, for three-axle chassis, is universally applicable.

It places mobile silos of 10 to 26 m³ and transports, as a classical hook roller tipper, mobile containers in accordance with DIN 30722.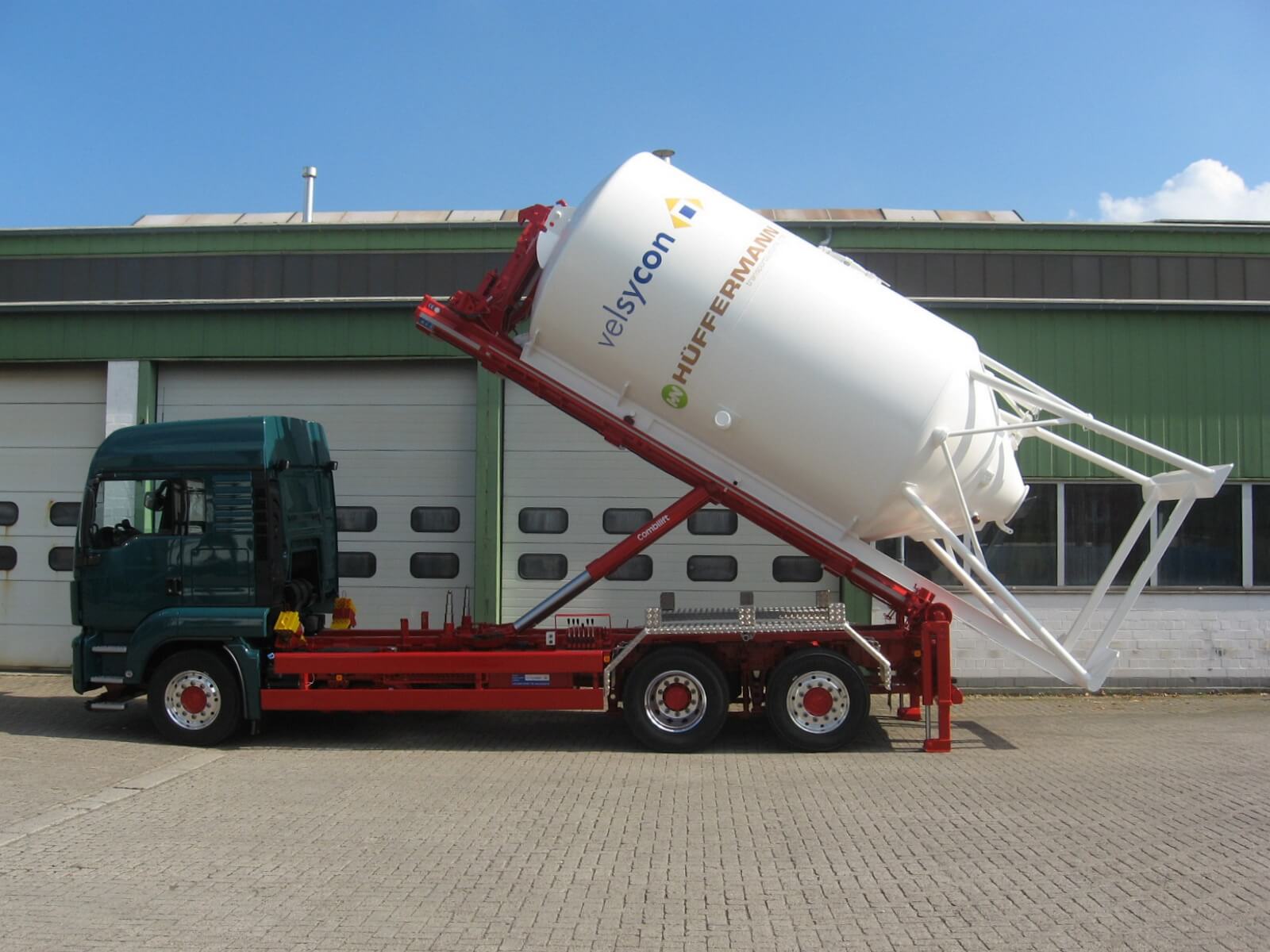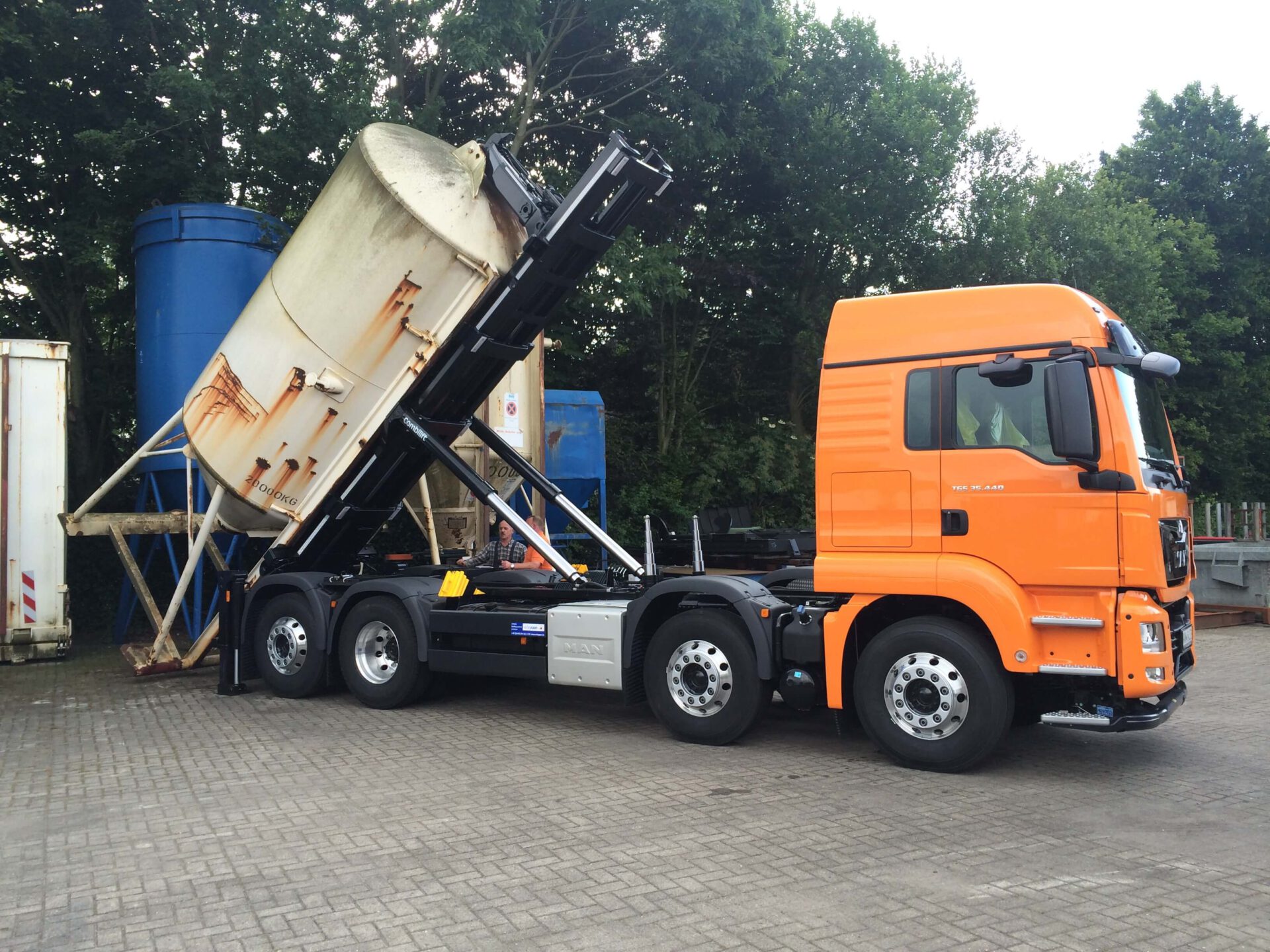 COMBILIFT type CL 35.72
The COMBILIFT Type CL 35.72, for four-axle chassis is a real power pack. It is used as a silo placer and hook roller tipper - especially in the construction industry. Manoeuvrability, a high payload and optimum efficiency make this COMBILIFT so successful.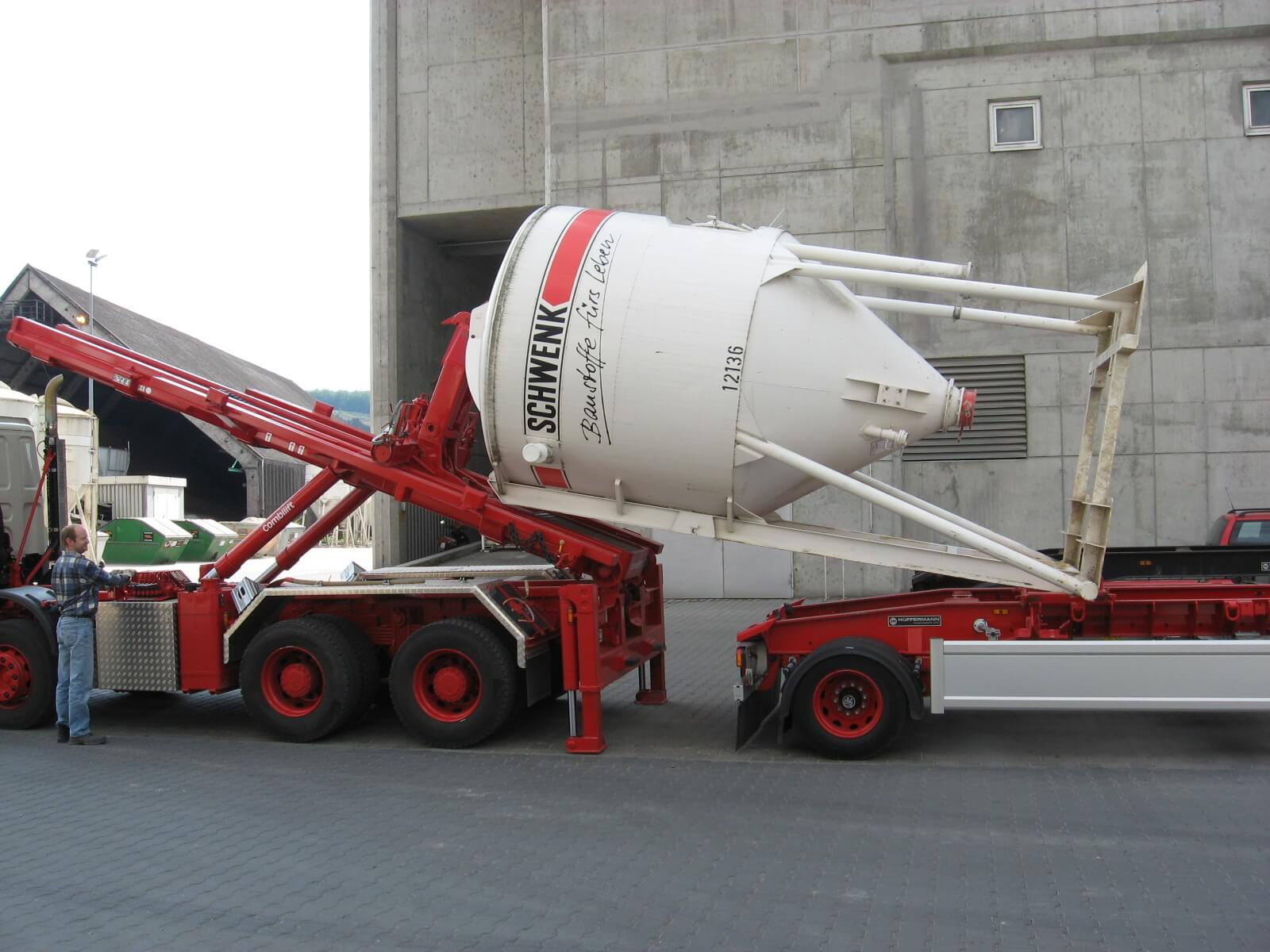 Individual or trailer unit
Individually or as a trailer unit the COMBILIFT system is unbeatable in providing building sites or other consumers with dry bulk material as well as for the various tasks in the disposal industry. Trailers can be loaded fast and simply by all types of the COMBILIFT system, thus significantly improving the transport capacity, flexibility and efficiency. Using the same horizontal movement, railway wagons are also loaded and unloaded by using a twist frame.
Silo placer and hook roller tipper integrated in one device
Standard version applicable for mobile silos acc. DIN 30734 (up to 22.5 m³) and container acc. DIN 30722
Supplementary equipment for 2-pocket and PFT mobile silos and for 20'-container (only 4-axle truck)
Flat angle for the pick up of container
Tipping angle of 98°
Low maintenance
Load and unloading of railway wagons (ACTS)
Special solutions with own design department
Assembly independent from truck type
| | CL 19.45 | CL 26.72 | CL 35.72 |
| --- | --- | --- | --- |
| Truck-GVW | 19t | 26t | 32-35t |
| wheel base 1. to 2. axle | 4.200 mm - 4.800 mm | 3.500 mm - 4.800 mm | 4.500 mm - 5.100 mm |
| wheel base 2. to 3. axle | - | 1.350 mm - 1.400 mm | 1.350 mm - 1.400 mm |
| max. silo length | 5.000 mm - 6.000 mm | 6.150 mm - 7.150 mm | 6.150 mm - 7.150 mm |
| container length | 4.000 mm - 5.500 mm | 4.000 mm - 7.000 mm | 4.000 mm - 7.000 mm |
| mounting height | 300 mm | 300 mm | 300 mm |
| hook height | 1.570 mm | 1.570 mm | 1.570 mm |
| alternatively | 1.420 mm(1450 mm) | 1.420 mm(1450 mm) | 1.420 mm(1450 mm) |
| tipping angle | 94° | 98° | 98° |
| working pressure approx. | 250 bar | 250 bar | 280 bar |
| lifting and tipping capacity | 12t | 15t | 20t |
| PTO without flange "c" | i = 0,8 - 1,0 x n-Motor | i = 0,8 - 1,0 x n-Motor | i = 0,8 - 1,0 x n-Motor |