velsycon | Interchangeable systems - adapter frame - in pre-design
Higher occupancy in transport sector achievable with adapter frames for LKW.
There is a a much greater need for flexibility, both for transport service providers working on behalf of other companies and for large companies with their own fleets of vehicles, in order to be able to cope with a wide range of different transportation assignments by road.
But there are also countless additional mobile silo systems, interchangeable containers, flats, aggregates and machinery in the logistics loop that need to be transported by HGV. Flexibility will be needed among transport companies in order to secure more utilisation for their lorries, especially in times of economic fluctuations. Adaptation solutions that enable lorries to be used flexibly for various transportation assignments are an economically effective concept.
COMBILIFT as universal solution.
The COMBILIFT with the interchangeable body becomes a universal load carrier. This interchangeable body transports anything and can be equipped with a suitable adapter if required. As well as DIN silos and DIN containers, the COMBILIFT can also hold two pocket silos, for example, picking them up and setting them down vertically like DIN silos using the CL-2T adapter frame. This is facilitated by a tipping and placing angle of over 90 degrees.
Advantages of the adapter frame solution
Adapter frame is only carried when required
No reduce of the payload availability for other transportation assignments.
Detachable adapter solutions for universal handling and transportation technology
Less time-consumation and cost-intensivity  during transportation and positioning process
Installation on 2 up to 4-axle lorries (manufacturer-independent) or complete vehicles
Increase of Vehicle utilisation up to 34%
Range of application COMBILIFT + adapter
Pocket silo
DIN 30722 container
ISO - 20' container
Drilling unit
Filter silos
DIN silos up to 22,5 m3
Front loader changeable Frontlader
Crane platform
Concrete mixer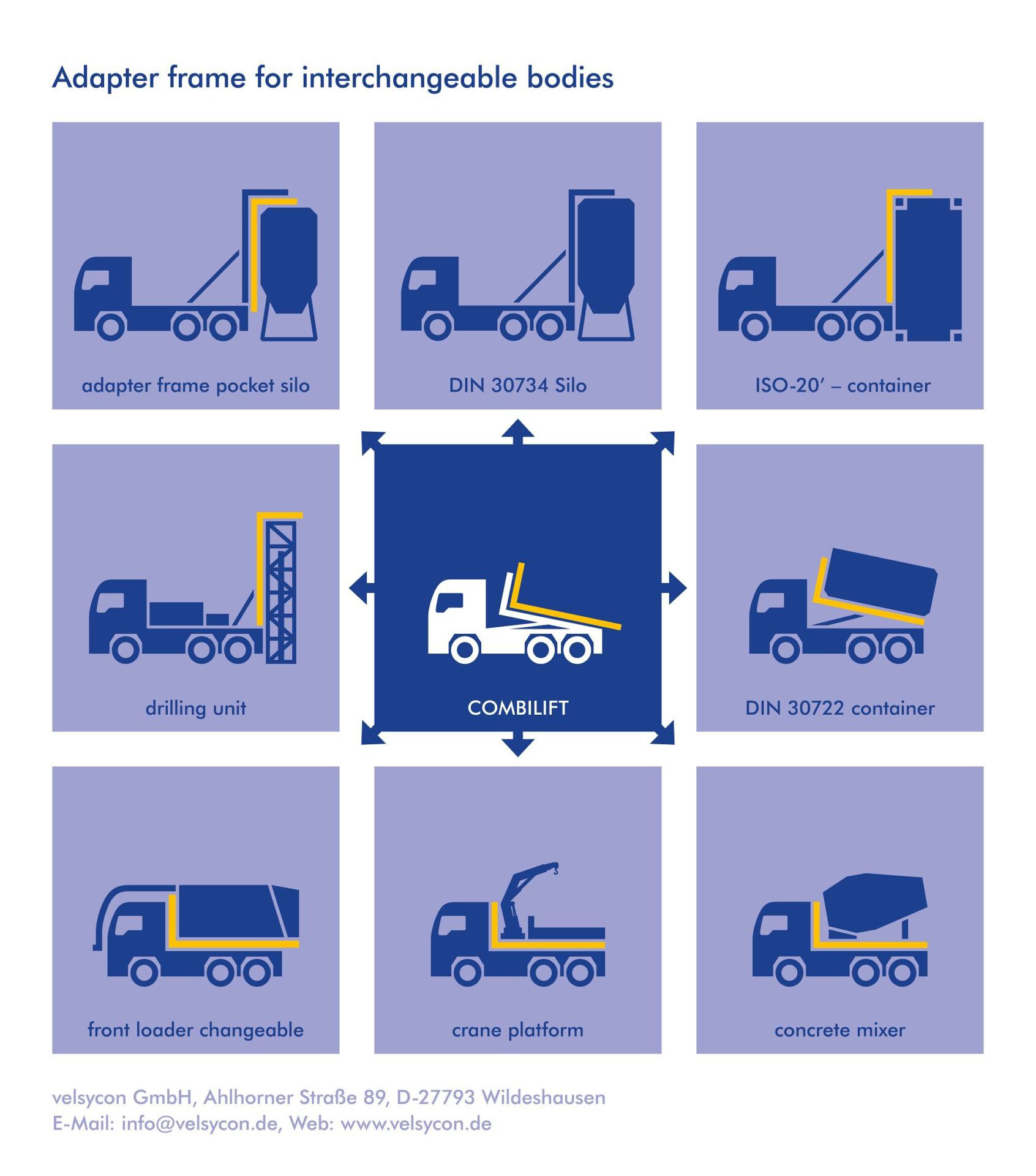 With our 3D-CAD design and high production depth using our own steel structures as well as the use of proven components, many transport solutions can be achieved by us with maximum flexibility. Moreover, customised solutions can also be developed and realised, e.g. for vertical drilling technology, exchangeable concrete mixing units and other customer requests.
The range of applications extends beyond the construction industry because chemical granulates, for example, or animal meal, blasting agents, wooden pellets, road salt, filter dust and other materials are also transported and delivered in interchangeable silos.
German vehicle manufacturing is technically highly developed and is at the leading edge globally. The high level of performance, equipment and degree of safety is also reflected in velsycon systems.
Whether Russia, Spain, Greece, Scandinavia, the Far East or the Middle East – HGV transportation technology from velsycon is used in many countries worldwide.